August 23rd, 2011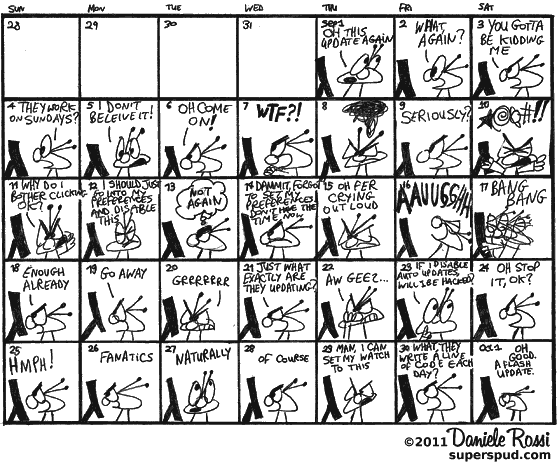 Read more clearly in PDF (1.7 MB). Mental Health Warning: you may be informed that you have to update your Acrobat Reader. Download and print the PDF to use as your calendar for September!
Man, how the auto-update feature for Acrobat irritates me so. I turn on my computer or wake it from sleep and I'm interrupted by the notification that if I don't update, my reader won't work optimally. While it's a really simple process of pressing the OK button, from the Ux point of view, it's just too much work. But if Adobe (or any other software company) doesn't offer automatic updates, will users be diligent in keeping updated? I doubt it.
Why can't I immediately stop what I set out to do, search for an unknown amount of time for Acrobat's preferences and assume there's a feature to turn it off? Do I really want to turn it off? What, pray tell, are they updating? Is it a few security holes? If I turn off the auto-update, do I put my computer at risk? After all, these updates comes quite frequently. Too frequently. While I applaud Adobe for being quick with updates, is there such a thing as too frequent?
Come on, it's only Acrobat Reader. How many times can such a simple (yet possibly complex?) piece of software need to be constantly updated?
In the words of my friend, Bob Goyetche, who tweeted the inspiring words for this comic, "Again with an Adobe update – what the hell do you guys do, write 1 line of code at a time?".
Thanks also to Robert Lee for bringing Bob's tweet to my attention. I almost missed it!